Made from plant based materials that are 100% biodegradable and compostable.
We believe packaging is the part of the products we create and our goal is to make our materials as earth friendly as possible. We understand the impact of our packaging on the environment from every angle. After extensive research and development with different materials, we ultimately are introducing this ECO-FRIENDLY PACKAGING
Now available for Rice, Pulses and Flours in 500gms and 1kg packaging respectively
Benefits of using Eco Friendly Packaging
Diminished reliance on fossil fuels
Increased use of recycled products
Increased use of renewable resources
Reduceduse of natural resource
More energy eficient
Cleaner and safer oceans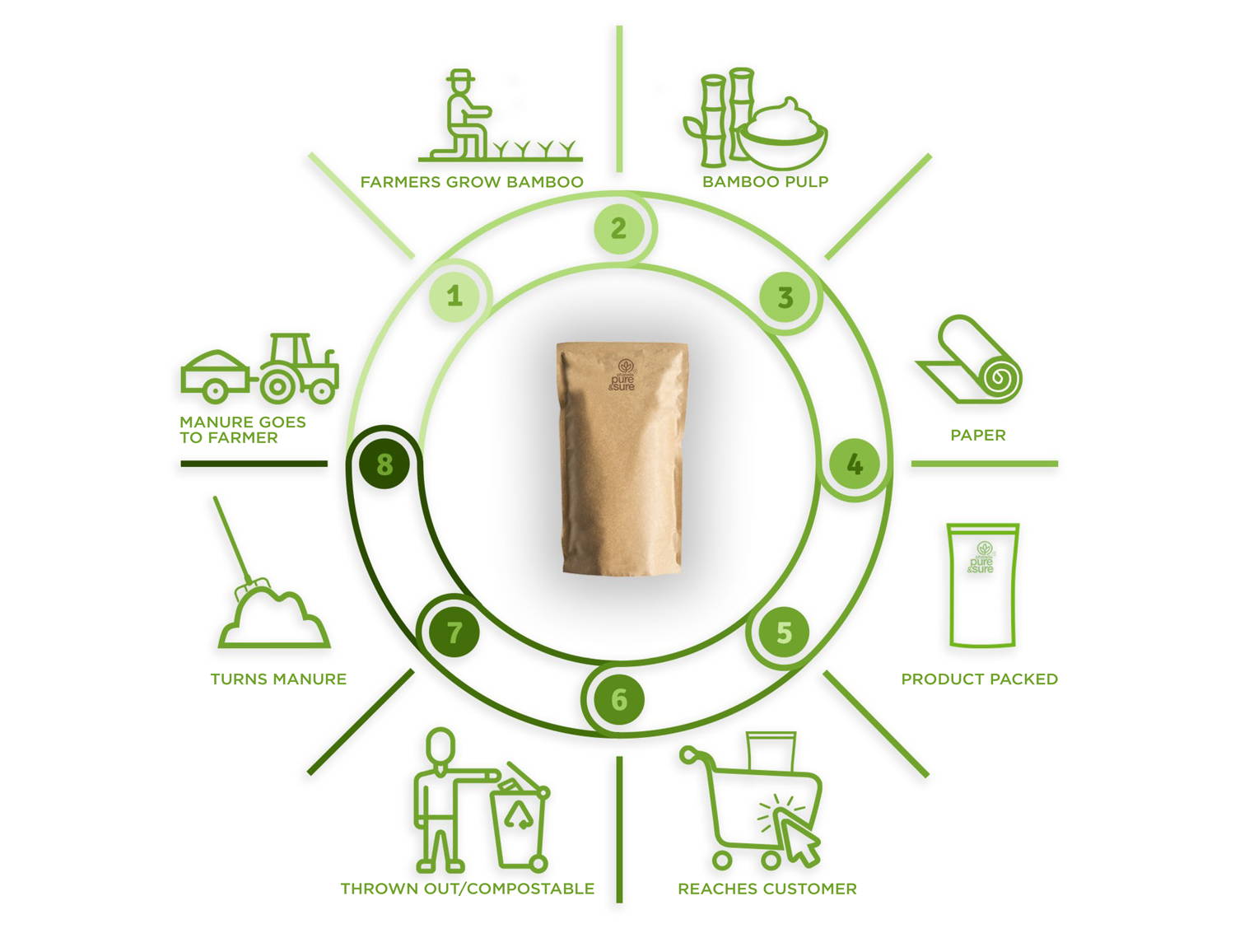 Frequently Asked Questions

What is eco-friendly packaging mean?
Eco-friendly packaging is safe for the ecosystem and does not harm the environment.
What is eco-friendly packaging made of?
Eco-friendly packaging is generally made of Bamboo, plant fibers, and pulp. They are manufactured of Kraft paper & consist of food-grade coating, making the package - 100% biodegradable.
How much impact am I making by choosing eco-friendly packaging for my products?
For every 10,000 packages of eco-friendly packages. You choose in the range of 500gm and 1kg. You are contributing to saving 54kgs of plastic reduction from the environment. Our eco-friendly package of 500gm and 1kg contribute very less CO2 emissions i.e. only 48 grams & 27 grams respectively in the atmosphere.
How can I recycle this packaging?
Put the bag into a recyclable bin. Aluminum & paper will be separated at the dumping ground. . The Aluminum is 100% recyclable & the paper is 100% biodegradable.
What about your products those come in plastic packaging?
In order to maintain our standards of freshness, so far we've had to use plastic – in addition to a variety of materials – in our packaging. But we have a new goal that by 2025 all of our packaging will be reusable, recyclable or compostable.
Since 2019, we have been testing a variety of plant-based/ biodegradable plastics, but have yet to find a suitable material able to keep our food fresh over the course of its shelf-life. We have had success in making changes to our packaging now with some of the products. Check on these products which come with eco-friendly packaging to know more.

How to use this eco-friendly package after receiving?
This is a replacement to single use plastic bags, transfer the product from the eco-friendly package into your kitchen container & then put the package into the recyclable bin.
Which products can I order for eco-friendly packaging?
You can order all range of pulses, rice and flours in eco-friendly packaging. Currently, it is available in 500gm and 1kg packaging respectively.

How eco-friendly packaging effect freshness of my product?
The freshness of the product stays intact as these packages come with an oxygen barrier, maintaining the freshness of the contents in the package.
How can we actively increase recycling?
Switch from single use plastic products or look for alternates of single use plastic packaging products as plastic is not recyclable.

Why it is important to choose environmental friendly packaging?
We are all witnesses to the hazards caused by plastic to the environment and us; therefore when you find a perfect alternate to plastic packaging which is environment friendly & food grade then why not switch to eco-friendly packaging.